Tragicomic Puzzle Adventure Backfirewall_ Revealed at PC Gaming Show
Krakow, Poland – June 13, 2022 – Publisher All in! Games and female-led developer Naraven Games pushed an automatic update of the reveal teaser for Backfirewall_, a first-person puzzle adventure set inside a smartphone at yesterday's PC Gaming Show. The high-brow narrative journey full of mystery, drama, and twists arrives on App Stores for PlayStation 5, Xbox Series X|S, PlayStation 4, Xbox One, Nintendo Switch, and PC via Steam later this year.
You, the Update Assistant, have been tasked by the ominous Update Protocol with updating the phone's operating system. But the buggy old OS9, desperate to avoid removal, has other plans for you. Backfirewall_ depicts the torment of programs whose code is regularly erased and replaced in the cause of technological progress.
Explore a weird and wonderful smartphone's setting, brimming with life and telltale conversations. Navigate wifi's bureaucratic nightmare or party in the speakers' exclusive nightclub and encounter many quirky characters, each an irreplaceable piece of personified software with its own rich file history, brought to life through iconic voice-acting.
Backfirewall_ is an amazing nano-journey where you manipulate your surroundings to solve puzzles, hunt down bugs, and use cheat-codes in an attempt to disrupt the update. Discover what truly goes on inside your smartphone and contemplate the perpetual struggle between self-preservation and noble sacrifice. Make up your own mind: does OS9 really deserve to be discarded, or is there a way to let him stay?
"We want players to feel like they're playing inside a Pixar movie while also reflecting on the rather mindless way in which we interact with our everyday digital devices," said Julia Jean, Creative Director at Naraven Games. "If you think twice before you update your phone after playing Backfirewall_, our job is done!"
"Backfirewall_ is a really refreshing approach to a narrative adventure and we are excited to bring such a fun and wholesome experience that everyone can relate to," said Raul Nieto, Head of Marketing at All in! Games. "Naraven Games have tapped into something with real originality that addresses our everyday connectivity on algorithmic digital platforms and our recurring relationship to our smartphones."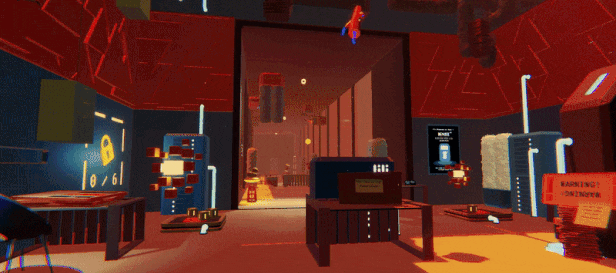 For more information on Backfirewall_ visit the Steam page, follow both OS9's personal account and Backfirewall_'s account on Twitter and TikTok, join the app uprising in the community Discord, and search #Backfirewall on social media.